Police have barred men under the age of 50 from entering the Temple Mount for Friday prayers, after a night of violent protests. Police say they have also received information extremists are planning violent protests in Jerusalem and the so-called West Bank.                    
Tensions persisted Thursday, even after Israel removed the last of a series of security measures erected at entrances to the Temple Mount following a July 14 terror attack in which assailants used guns smuggled into the compound to kill two policemen guarding near there.
Palestinians had celebrated Thursday morning as Israel rolled back the security measures and thousands of Muslims heeded a call by Muslim leaders to assemble for prayers at the Al-Aqsa mosque for the first time after boycotting the site for 11 days.
But as crowds pushed at one of the gates to the compound in the Old City, clashes erupted and police fired tear gas and rubber bullets to disperse them, with dozens reported wounded. Ten police officers were injured in the ensuing clashes, according to Israel's Channel 2 news.
Clashes also broke out on the Mount, where activists attempted to fly the Palestinian flag from the mosque and threw rocks at Israeli forces, with some projectiles flying onto the Western Wall plaza below.
Later Thursday night, police removed dozens of Palestinian youths who had barricaded themselves inside the mosque. Over 100 people were arrested and 15 were injured in the ensuing melee with police, according to Palestinian media.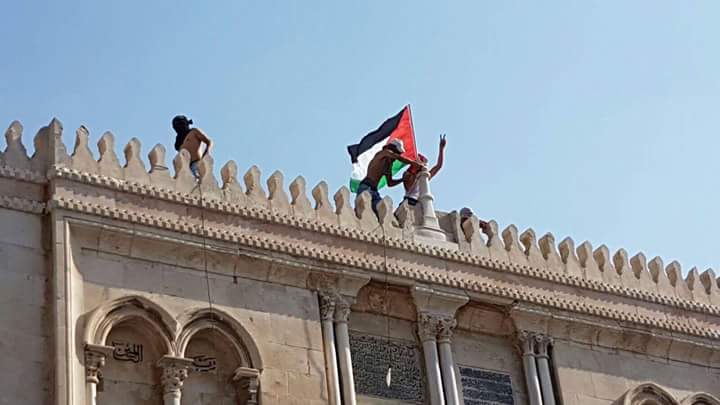 Police said they decided to storm the mosque and forcibly remove the protesters after several calls by both police and officials from the Waqf Islamic trust that administers the site failed to move them. A spokesperson said the decision was part of a bid to keep a lid on violence on Friday, the Muslim holy day.
Israeli officials had been hoping a planned "day of rage" by both the Fatah and Hamas Palestinian factions would be called off after the security measures were removed, but said they were prepared for protests.
Police called on Muslim leaders and public figures to denounce incitement and violence and to act responsibly to calm the situation.