Over 30 countries joined the UK, United States and Israel in boycotting the UN's 20th anniversary commemoration of the notorious 2001 Durban conference on racism, which infamously turned into an anti-Semitic hate-fest.
The mass non-attendance at Wednesday's event left an almost empty UN General Assembly hall, however Ireland was one of the few countries that ignored calls and attended.
At the eleventh hour, Latvia and Sweden also withdraw bringing the total to 36 countries that boycotted (the image below shows 34)
Israel's Foreign Ministry released a statement denouncing the conference as the commemoration began, saying, "The original Durban Conference, a UN-hosted event, became the worst international manifestation of antisemitism since WWII. Inflammatory speeches, discriminatory texts and a pro-Hitler march that took place outside the halls were only part of the ugliness displayed in 2001."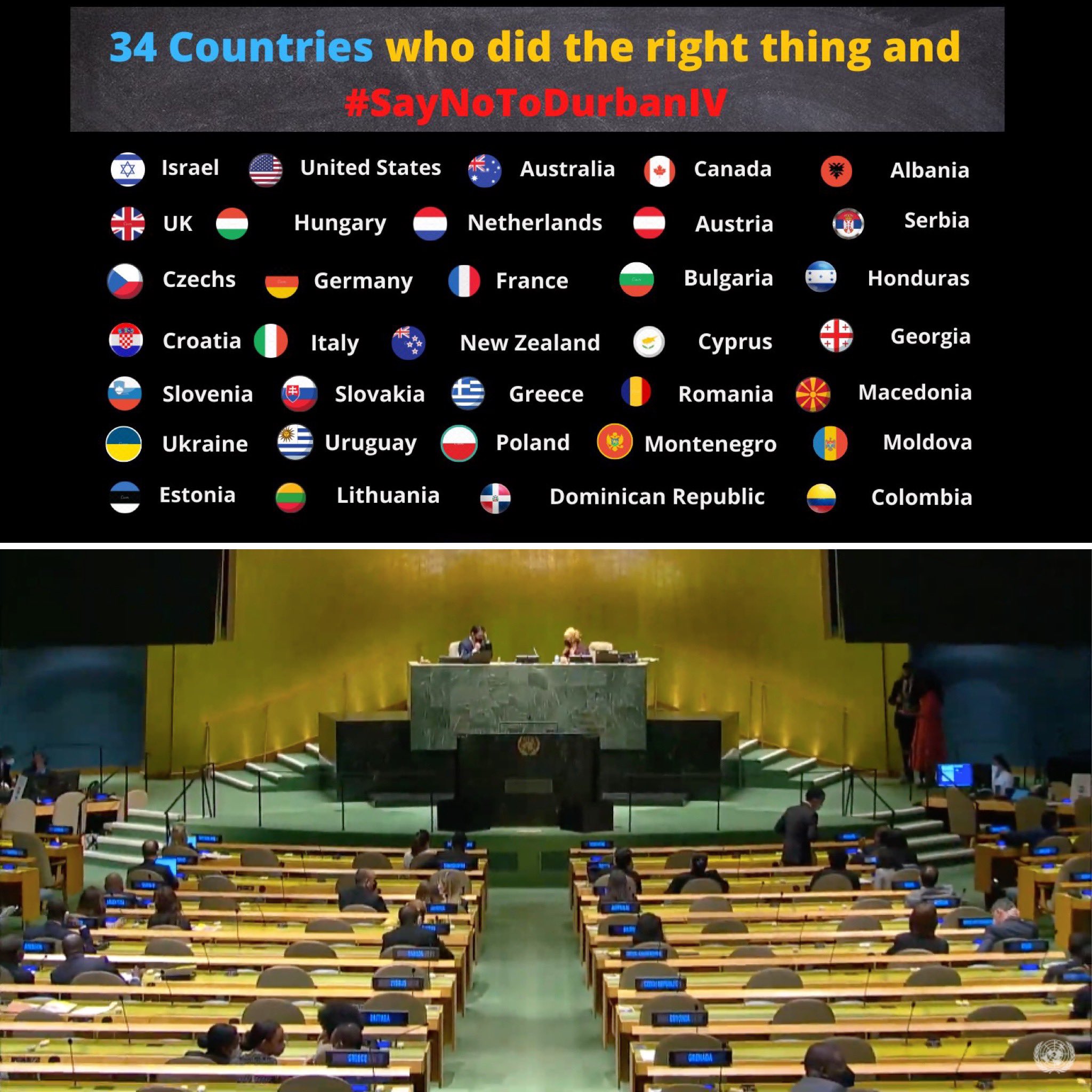 "The 'World Conference on Racism' actually ended up encouraging it, including through the parallel NGO forum, which displayed caricatures of Jews with hooked noses and fangs dripping with blood, clutching money."
"Twenty years later, some of the same organizations have waged a BDS campaign against the only democracy in the Middle East, but they have FAILED," the ministry added, referring to the Israel boycott movement.
Dozens of countries steered clear of a UN General Assembly session Wednesday that commemorated the 20th anniversary of the controversial UN World Conference Against Racism in Durban, South Africa, which was accused of veering into open antisemitism.
Israel and dozens of other nations boycotted the commemoration event amid worries it would also feature attacks on the Jewish state, with Foreign Minister Yair Lapid tweeting that 34 countries would not attend.
"Thank you to everyone who enlisted in a focused and successful diplomatic operation," Lapid wrote of those who helped organize the boycott.
Despite 36 countries saying #NoToDurbanIV at #UNGA #Ireland spoke at 2nd session – same session as FM of Iran & speakers on behalf of Pakistan, Venezuela, Qatar & Malaysia. Following vague condemnation of #antisemitism she proceeded to say how great #DurbanIV is 🤦‍♀️🤢 @dfatirl pic.twitter.com/W9HIqpJAHn

— Ireland Israel Alliance (@irlisrAlliance) September 23, 2021
In June this year, following calls by CUFI supporters, Boris Johnson's government joined the United States, Canada, Israel, Hungary and Australia who had previously announced they will be boycotting the event.
The World Conference against Racism held in Durban, — held from August 31 to September 8, 2001, just days before the terror attacks of September 11 — was overshadowed by notoriously trying to define Zionism as racism. The event involved hatred, anti-Semitism and criticism of Israel that was excessive, disproportionate and unfair. Copies of anti-Semitic propaganda, including The Protocols of the Elders of Zion, were reportedly distributed at the parallel NGO conference and Jewish representatives were harassed. It was here that the 'apartheid' slur against Israel originated.
In 2011, former Prime Minister David Cameron said the 2001 conference in Durban "saw open displays of unpleasant and deplorable anti-Semitism." He said it would be "wrong to commemorate those displays," adding, "Indeed, they should be condemned."
Couldn't even get enough for a Minyan! 6 people is all #UNGA could muster for the first roundtable of #DurbanIV at UN. That's what happens when nations and leaders of principle #SayNoToDurbanIV antisemitic carnival. pic.twitter.com/qY0W2OTZ7T

— Arsen Ostrovsky (@Ostrov_A) September 22, 2021
Israel's Ambassador to the UN Gilad Erdan on Friday noted the number of nations planning to boycott the ceremony was over twice the number of countries that had skipped the event in the past.