Blessed be the Lord my Rock,
Who trains my hands for war,
And my fingers for battle
Psalm 144:1
We shed light on Zelenskyy's Jewish roots, his fight for Holocaust memory and against antisemitism.
Zelenskyy is grandson of a Holocaust survivor; "…that grandson became president, and he is standing before you today."
Ukraine's recognition of Jerusalem was raised in December and a visit to Israel by Zelenskyy was planned for this year.
The president has reached out asking for prayer
Volodymyr Zelenskyy has become a household name since becoming the man leading the defense of his nation against Russian invasion. Zelenskyy, who is Jewish and the grandson of a Holocaust survivor, has been compared to a modern day Maccabee by some. And those acquainted with the Biblical account of David and Goliath will recognise the tremendous courage needed to lead his people in a near impossible situation. Taking this picture of David a bit further, Psalm 144, a Psalm of David, seems a a fitting declaration upon Zelenskyy and his family at this time:
I will sing a new song to You, O God;
On a harp of ten strings I will sing praises to You,
The One who gives salvation to kings,
Who delivers David His servant
From the deadly sword.
Rescue me and deliver me from the hand of foreigners,
Whose mouth speaks lying words,
And whose right hand is a right hand of falsehood—
That our sons may be as plants grown up in their youth;
That our daughters may be as pillars.
Psalm 144:9-12
Zelenskyy has called for prayer
Last week, Ukraine's Chief Rabbi, Yaakov Bleich, who was in America coordinating the rescue of Jews from cities under attack, received a phone call from Ukraine: "Suddenly, I got a call from an unfamiliar number. The voice at the other end said, 'The president would like to speak to you'. Two minutes later, he was on the line.
"His voice sounded very strong. "He told me, 'Rabbi Bleich, this is Zelenskyy speaking. I need you to pray for the success of our soldiers. We are outnumbered, but they cannot match our determination and will to win'."
Since then, Zelenskyy has remained determined to remain in the capital Kyiv despite the deteriorating situation. And Ukraine reports that three assassination attempts on the president's life have been foiled. 
Rabbi Bleich says, "He understands that 40 million sets of eyes are on him, and that if he falters, 40 million people will falter behind him.
"That is somehow giving him the energy to keep going, almost without sleep, day after day."
Jewish faith
Zelenskyy has always been proud of his Jewish heritage, but has kept his faith a personal matter. 
"I never speak about religion and I never speak about God because I have my own personal opinion about it," he said in an interview. "Of course, I believe in God. But I speak with him only in those moments which are personal for me."
This very much reflects the story of his family growing up in Ukraine during the Soviet Union. He told the Times of Israel in early 2020, on the eve of visit visiting Israel to commemorate the 75th anniversary of the liberation of Auschwitz, that his family was typical of Soviet Jews in the 1980s when he was raised, saying "religion didn't exist in the Soviet state as such."
But Judeo-values did make an impression in Zelenskyy, which he attributes to his parents. Zelenskyy's father, Oleksander, is a mathematician who heads a university computer science department; his mother Rimma was an engineer for many years. He said in a 2018 interview, shortly before officially running for president, that because of them, he is unable to accept lies. "I always react painfully to lies," he said. "This is the main feature that my parents gave me."
Grandson of Holocaust survivor

During his visit to Israel, he told "a tale of four brothers". He said: "Three of them, their parents and their families became victims of the Holocaust. All of them were shot by German occupiers who invaded Ukraine. The fourth brother survived.
"Two years after the war, he had a son, and in 31 years, he had a grandson. In 40 more years, that grandson became president, and he is standing before you today."
Ties to Israel
Zelenskyy has said he has relatives who moved to Israel in the 1990s, during the wave of Jewish emigration from the newly dissolved Soviet Union. He has also conducted business there as an actor and comedian, and performed in venues throughout the country.
Another visit to Israel had been planned by Zelenskyy for 2022. Last December at an event marking 30 years of Israel-Ukraine ties, Ukraine's Ambassador to Israel Yevgen Korniychuk said that his country could recognize Jerusalem as Israel's "one and only capital" soon, and hopes to open a branch of its embassy in the city in the coming year, during the anticipated visit by the president.
He told The Times of Israel that he believes that recognition is a matter of months, not years, but that Zelenskyy has certain preconditions in the security and defense relationship between the countries before that can happen.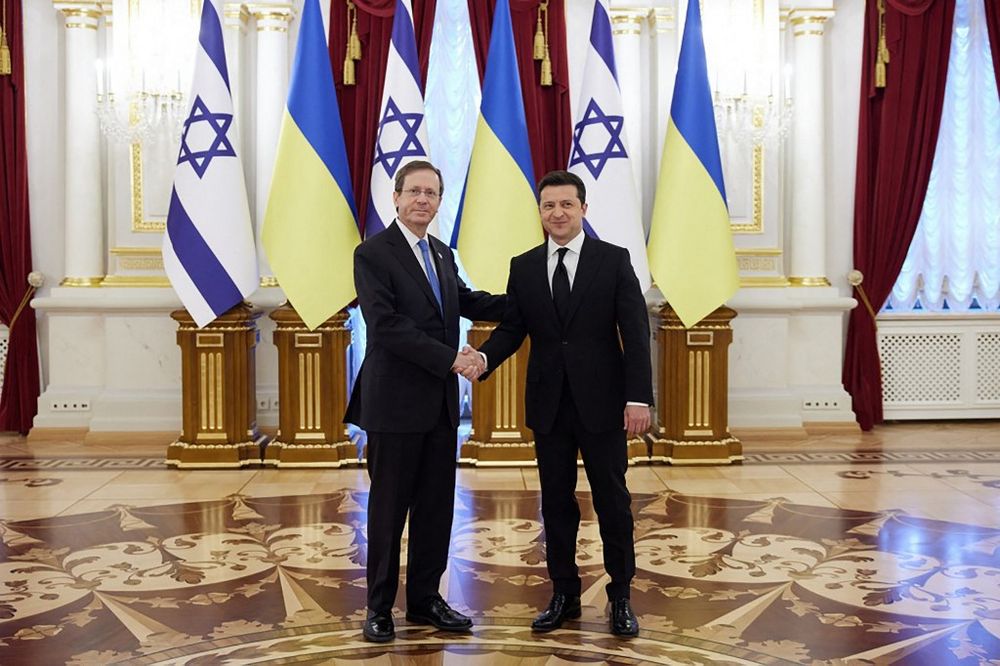 During the visit of Israel's President Herzog, Zelenskyy said, "Israel is a friend and partner of ours in everything concerning diplomacy, trade, security, politics, and humanitarian issues."
Support for Holocaust memorial
Zelenskyy has been fully supportive of plans for a memorial at the site of Babyn Yar, where a massacre of over 33,000 Jews took place during World War 2. The site, which currently features two monuments with future plans for an education centre, was struck this week when a Russian missile targeted a TV mast.
"He has always done what he believes to be right," said Ruslan Kavatsiuk, an aide who was deputy director of the project to build a memorial at Babyn Yar.
"When he threw his support behind the memorial, many people criticised him. And he just said: 'I'm not doing this for my approval ratings, but because it's the right thing to do'. Of course, what he's doing now is much bigger. He's not just doing the right thing for Ukraine now, but the world."
Opened last year, the memorial site was hit by a Russian missile on Tuesday, prompting Zelensky to issue a  call to "all the Jews of the world", urging: "Shout about killing of civilians. Shout about the murder of Ukrainians."
As president, he also led Ukraine to adopt the International Holocaust Remembrance Association definition of antisemitism. The significance of this step cannot be overstated. This was a country where thousands joined the Nazi Waffen SS during the war, and where neo-Nazis remain, albeit recently commanding a tiny share of the vote, says The JC.
Reaction
Zelenskyy's Jewish roots haven't gone unnoticed on social media. One meme that went viral stated: "A Jewish Ukrainian family had 4 brothers. 3 were murdered by the Nazis. Only 1 survived," referring to his grandfather.
Another states: "This is Volodymyr Zelensky. President of Ukraine. He is Jewish. His grandfather fought Nazis in WWII. Many of his relatives were killed in the Holocaust. He is standing up to a dictator. Because he is brave. Because he knows what happens if you don't."
In Tel Aviv, people rallying for Ukraine chanted Zelensky's name. A tweet by a former Israeli speechwriter encouraging people to pray for him by his Hebrew name was shared tens of thousands of times over the weekend
Ben M. Freeman, the author of the 2021 book "Jewish Pride: Rebuilding a People" said in response, "Jewish people are resilient. Jewish people fight back. Jewish people have always resisted. And I think many Jewish people feel that this is a continuation of that," Freeman told JTA. He added, "There's layers of Jewish resilience, but there's also the rewriting of the Ukrainian Jewish relationship — not rewriting it to erase the past because we cannot — kind of helping us move forward."
"Zelensky gives modern Maccabee energy," Peter Fox, a writer, wrote on Twitter. "In 1941 over 33,000 Ukrainian Jews were murdered in a two day span in the Babyn Yar ravine marking one of the deadliest massacres of the Holocaust," Fox wrote, referring to the mass shooting that was organized by Nazis but supported by local collaborators. "For Ukraine to have a Jewish President descended from a Holocaust survivor standing up to a dictator is really empowering."
Paddington
And one final Jewish connection, Volodymyr Zelenskyy provided the voiceover for the Ukrainian-dubbed versions of the Paddington movies. The Paddington books were inspired by Jewish children who took refuge in Britain during World War 2. The fun-packed trailer circulating on social media is a world away from the bleak landscape that has enveloped Ukraine in recent days, but we pray that brighter days will return for the Ukrainian people, and the Zelenskyy will be the one who leads his country through.