If the nation needs any further reminders about what the term 'From the river to the sea' means, look no further than this. A placard held at the national Cenotaph in London this week shows a Star of David being put into a rubbish bin and the words, "Please keep the world clean. Free Palestine." Scotland Yard are apparently investigating.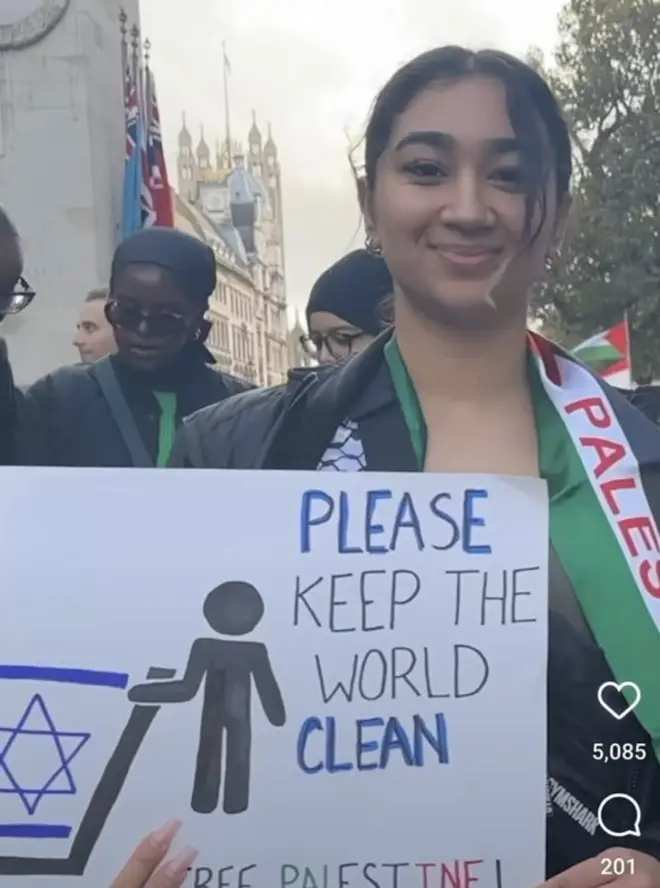 This and other similar slogans wishing for the eradication of the Jewish state are antisemitic. It's also indicative of the lack of sensitivity towards the remembrance of the victims of two World Wars, in which men and women gave their lives to eradicate the kind of evil not dissimilar to that demonstrated by Hamas. Those who wish for the destruction of the Jewish state are no better than the Nazis and those who supported them. They abuse the freedom won through the victory that came with sacrifice. And they insult their memory by supporting the actions of a terrorist organisation that – let's be frank – are an enemy of Britain. 
Their surrounding the Cenotaph is deliberate. Not only do they believe in a set of values contrary to those traditionally shared between Britain and Israel, but they are proud to take centre stage to identify with this toxic antisemitic movement that is making Jews feel intimidated and scared in a country that actually should represent the opposite. That is the really worrying thing these protests – there is no shame in associating with the terrors of Hamas.
This is why under no circumstances should any pro-Palestinian march take place on Armistice Day (11th November), or Remembrance Sunday (12th November), and especially not anywhere near the Cenotaph where members of the Armed Forces in both World Wars, and conflicts since, will be honoured.
Security minister Tom Tugendhat told LBC this week: "I think that there is a real opportunity for the Mayor, Westminster Council, and the Metropolitan Police to respond early to this.
"This is a matter of some concern not just to me but to many fellow veterans.
"Remembrance Sunday is not just another day in the calendar.
"I think the Cenotaph is sacred ground."
Former Chairman of the Defence Select Committee Tobias Ellwood told LBC: "It's very clear that some UK based pro-Iran organisations are using events in the Middle East to sow tensions through disinformation often directed at the younger age group. 
"There needs to be a concerted effort to avoid students being fed a false narrative. As this is not only fuelling ever violent protests but could lead to some individuals being radicalised."
Hopefully, their protests will be diverted away from the Remembrance events, preferably towards Gaza where they can protest against Hamas. 
This year, we want to do more to bless Israel and the Jewish people.
We know that as we bless Israel this year, God will bless us, just as He promised in Genesis 12:3, "I will bless those who bless you, and whoever curses you I will curse; and all peoples on earth will be blessed through you." Now is the time to bless Israel and the Jewish people.