Australian foreign minister Julie Bishop met with Israeli Prime Minister Benjamin Netanyahu in Jerusalem on Sunday and invited him to become the first Israeli premier to visit Australia.
"I want to take this opportunity to reaffirm our absolute enduring commitment to the State of Israel and our friendship, and invite you to come to Australia," Bishop said, suggesting a time frame for the visit early next year.
"The Australian public would warmly embrace you, welcome you and we would look forward to the first visit of an Israeli prime minister ever to Australia," she said.
Netanyahu accepted the invitation and lauded Israel's friendship with Australia.
"I just want to greet you and say that your friendship is terrific – Australia, the government's and yours personally. And we appreciate our friends," Netanyahu told Bishop at the beginning of their meeting.
A visit by Israeli President Reuven Rivlin to Australia in February was cancelled in order for the President to instead hold talks with Russian President Vladimir Putin in Moscow.
In a meeting between Rivlin and Bishop at the President's residence on Sunday, Rivlin apologized for the cancellation, and said he would be happy to visit Australia soon without specifying a date, the Jerusalem Post reports.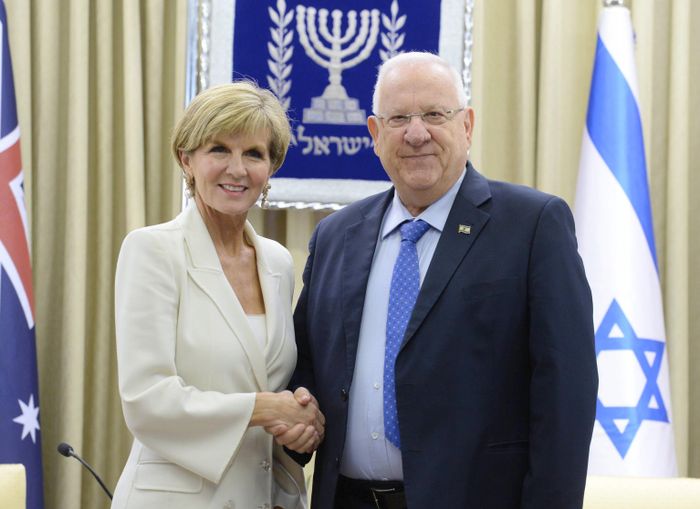 Bishop is on a three-day visit to Israel and the Palestinian territories to discuss bilateral relations, the Middle East peace process, and Australia's development assistance to the Palestinians.
She also met with Israeli Defence Minister Avigdor Lieberman to discuss international security and the war against the Islamic State group.
Ms Bishop also discussed the closed trial of World Vision employee Mohammed al-Halabi, who was charged over allegations he defrauded the charity to assist the militant group Hamas.
After attending a wreath laying ceremony at the Yad Vashem Holocaust Memorial earlier in the day, Bishop met with Rivlin and re-affirmed Australia's commitment to taking a pro-Israel stance in international forums when "obviously biased, discriminatory and unfair resolutions [are] put forward."
Sources: i24News / Syndey Morning Herald